Creative Things To Do Lists
Creative To Do List Post-it-Notes
Personalized Custom Post it Notes for today's or creative things to do lists – with or without lines to keep your list neat – a variety of backgrounds- Ocean Beach Lovers – Boho Rustic – Floral – Geometric confetti Dots and Watercolor Brush Strokes. These make a Great gift.
Creative Things To Do Lists are Stylish Post-it-Notes for every occasion.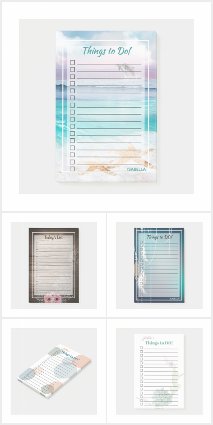 by 🙂 Deb
***This site contains affiliate links to products. We may receive a commission
for purchases made through these links.

Powered by Zazzle Affiliate Helper
For more Christian Designs be sure to check out the following sites:
Artistry For Jesus – Artistry Shop – Artistry Collections – Artistry Pinterest
PRE Designs Shop – P.R. Evans Designs Pinterest – P.R. Evans Designs Zazzle
Please follow and like us: